Below are some reasons why you should take services of Cartiff for disposal of your car.
We generally believe Mayapuri being in Delhi is immune and safe for general car disposal. However facts and news do not say the same story. There are lot of news of cars being stolen and sold in Mayapuri. While it is true that most of the car scrap dealers are honest and do not accept stolen cars there are many exceptions. Of-course, it is tough to identify ingenuity.
For example see the news snapshot from Navbharat times for your reference.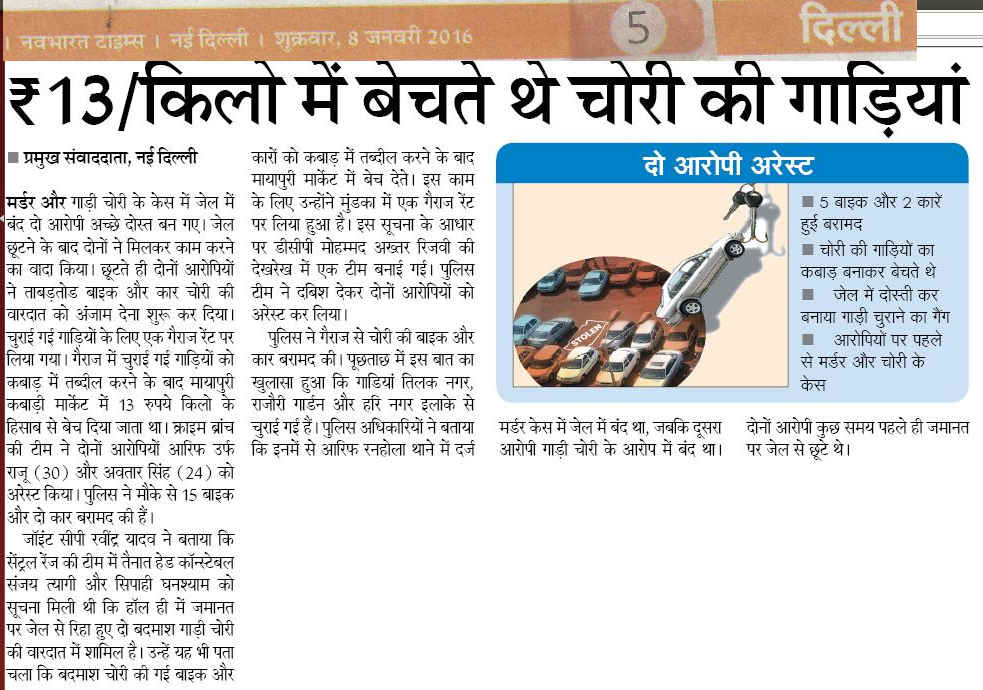 So from above example it is clear that you cannot trust any scrap dealer just like that.
Cartiff being a ethical car scrapper we provide following to ensure piece of mind for you.
Disposal of Car.

Harmful chemicals like break fluid, engine oil, coolant, power steering fluid etc is taken out for safe disposal, fuel is also drained for safety.

Engine is destroyed and scrapped.

Chassis number is cut out and handed over to owner (may be required as proof of scrapping by state R.T.O. if car is registered)

Body parts and mechanical parts are taken out and sold to workshops/used part retailers and in some cases directly to customer.

Non salable parts are scrapped in pressure scrapper.
Paper work
Assurance Note (From Cartiff to Owner of car):- This note mentions that car will not be used to run on road and engine shall be scrapped and chassis number will be handed over to owner. This note also mentions that the responsibility of cars lie with us after handover.

Indemnity Bond/Affidavit (From Owner to Cartiff):- This mentions that the car does not have any legal and financial liability and owner agrees to scrapping/Destruction of Car.

Authorization letter/NoC: This letter is required for legal purpose, it states that we are scrapping the car with full consent of the owner.

Registration/Temporary registration or any other proof of ownership is also required for verification of ownership by us. A copy of these documents also required for our records.
---
So while selling a car for scrap to us you can ensure that your car does not cause any harm to environment. You are legally safe and all the liabilities are rest with Cartiff once you take our services.
---