Scrap Price of Maruti 800 is Rs. 12000.
This price is also applicable for 15 years old Maruti 800, whose RC has been expired. The price of Maruti 800 Damaged in accident or damaged due to rusting will be lower. However, condition of running or not running does not make any difference in value of Maruti 800 scrap.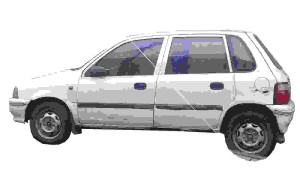 Maruti 800 is a lighter car and its scrap metal weight is only 260 KGs. Most of the parts are not reusable and hence it is slightly low in car scrap price. It contains only a small amount of harmful materials.
Always remember while giving your maruti 800 for scrap ensure you get your RC, Cancelled. This will make you free from illegal use of your car which you sold for scrap. The price is also applicable for Maruti Suzuki Model and Suzuki Model of 800 also.
you can check prices of scrap car here.