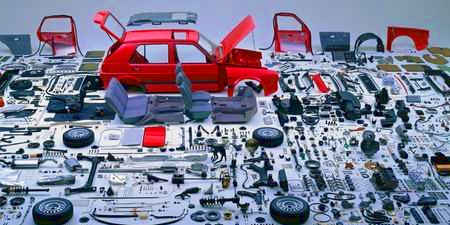 Indian Auto Sector specifically for passenger car has emerged with JV of Maruti technical services private limited (MTSPL) and Suzuki Japan in 1982. India has seen first of its hatchback car in form Maruti 800 with 792 CC. India has emerged as major exporter country in recent times from a importer country in automobile. Indian automobile sector is now one of largest in the world. India is now home to all major leading automobile company. India does not have only manufacturing units but also R & D centers for all major players. India has more than 4000 major and thousand of small factories producing various parts for the manufacturer of cars. India is home to global brands like Maruti Suzuki, Tata Motors, Mahindra & Mahindra, Hindustan Motors, Ashok Leyland, Honda Motors, General Motors, Hyundai, Toyota, Mercedes, BMW, Audi, Ssanyong, Opel, Datsun, Renault and many more.
Indian market is witnessing double digit growth in automotive sector. It has huge demand for new and used parts for vehicle. Market for spare parts in India is huge in nature but very unorganized with low transparency. Spare parts are purchased very less by the actual user from over the counter. Customers heavily rely on local service centers, authorized service centers and local mechanics and they purchased parts on their own convenience. Customers do not enjoy price competitiveness despite of mediators are milking them. Costumers hesitate to purchase parts themselves due to lack of technical knowledge.
Recycle used parts market is huge from inception of automobile industry in India. This entire market is unorganized due to no control and standard practices. Customers need to have strong technical knowledge to choose parts from these unorganized market places. It is very hard to know which shop or unit will be offering your need of product at best rate and again customer rely on their service centers and mechanics to choose for them. It results into high purchasing for that part.Market place like Mayapuri car scrap market, Jama Masjid used part market in Delhi and Sotiganj in Meerut scrap market are famous for used spare parts. Customers can have all range of new to relative less used parts at one tenth of actual cost of parts for their vehicle. Some shops also allow customer to replace parts in fifteen in case of complaint.
Demand for parts for Maruti Suzuki vehicles is huge due to major market share hold by its brand of cars. Customers can purchase used parts such as Axle, Gear Box, Parts of Engine, Doors, Glass, Front Glass, Rear Glass, Tyres, Alloys, AC units, Whole body, Compressor, Sensors, Lights, Steering units and any other pars for all kind of Maruti brands from this market. Parts are available for all models such as Maruti 800, Gypsy, Wagon R, Ritz, Omni, Ertiga, Sx4, Swift, Swift Dzire, Ciaz, Alto and other models as well. Customers can get parts for any old model also which otherwise not available from anywhere.
Used parts market should be regularized and organized so that potential of such huge demand can be tapped. This market should help themselves and set up local service centers where customers take their cars and get fit missing parts at best possible price without getting robbed by local mechanics. At Cartiff, we can help you to get any kind of used car parts at best rate offered to your mechanics with fitments and replaceable warranty of 15 days.