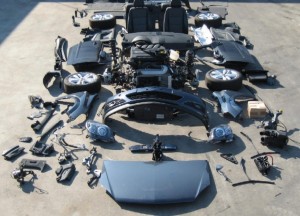 Cartiff sells used spares obtained from scraped cars. Spares are tested for their working conditions before selling. We can help you in sourcing all types of used car parts. Like Parts of Motor, Turbo, Gear boxes (Both Automatic and Manual), Body parts like doors, Glass, Bumber, Rear/Side View Mirror, Alloy wheels, Air-conditioner/Compressor, CNG kit spares, Cooling system (Radiator), Tyres, Headlight, Suspension (springs, shock absorbers and linkages) and so on. Used parts are mainly sourced from cars in running condition, accidental and Scrap cars. We source parts with the responsibility in legal manner.
Used Parts available for:
Maruti, Toyota, Honda, Hyundai, Tata, Mahindra, Ford, Renault, Fiat, Volkswagen, Mercedes, BMW, Audi, Jaguar, Range-rover etc. Parts are available at best prices and in working condition.
Vintage Car Parts
We also source/Import vintage car parts for various models.
---
Now you  have no longer need to visit scrap markets or chor markets like Mayapuri/Sotiganj, Meerut for your car parts. We can source these parts legally for you. Home delivery is also available for select location.